News
New digital editions from the heritage of Holy Trinity Seminary
Posted:

Monday, April 19, 2021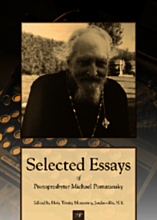 Selected Essays
of Protopresbyter Michael Pomazansky

This collection of essays by one of the giants of the twentieth century Russian emigration is newly available in digital form. Fr. Michael Pomazansky was one of the Russian Church Abroad's last living links to the streams of pre-revolutionary Russian theology. He graduated from the Kiev Theological Academy in 1912, where he studied under the wings of Metropolitan Antony (Khrapovitsky). In 1949 Fr. Michael and his family emigrated to the United States and settled in Jordanville, where he taught the Greek and Church Slavonic languages and Dogmatic Theology until his retirement. His most famous work is Orthodox Dogmatic Theology. Fr. Michael reposed in peace in 1988, only a few days shy his one-hundredth birthday.

His characteristic spirit of deep humility infuses these writings. Subjects addressed in this collection include biblical criticism, Catholicity and Cooperation in the Church, Liturgical Books, serving in the Church, the liturgical theology of Fr. Alexander Schmemann, the Glorification of Saints, Children in the Church and much more.

Available for your preferred e-reading platform:

Kindle

Nook

Kobo

and many more!


Commentary on
the Holy Scriptures
of the New Testament
Three-volume Boxed Set
by Archbishop Averky (Taushev)

Previously available as separate digital volumes, but combined now at a new low price! 

Archbishop Averky approaches the New Testament first and foremost not as a literary work of antiquity, but as the revelation of Jesus Christ as God in the flesh. Writing in the tradition of biblical exegetes, such as St John Chrysostom, Blessed Theophylact of Bulgaria, and St Theophan the Recluse, he provides a commentary that is firmly grounded in the teaching of the Church, manifested in its liturgical hymnography and the works of the Holy Fathers. 

Archbishop Averky's commentaries on the New Testament have become standard textbooks in Holy Trinity Orthodox Seminary and have been published in Russia to widespread acclaim. This present collection makes the complete commentary available in one collection for the first time. It is an indispensable addition to the library of every student of Holy Scripture.


Available for your preferred